2020 Registration Info
Registration for the 2020 season has closed, please direct all inquiries to avonyouthlacrosse@yahoo.com
Cost:
K-2 Cost: $50 (Incl. T-Shirt and full equipment)
3-4 Cost: $75 (Incl.  T-Shirt)
5-6 Cost: $75 (Incl. T-Shirt)
First time Player? 
We offer Helmet & Equipment Rental for the 3/4 and 5/6 teams for a $15 fee.
Note: Limited quantities available

2020 Season Info:
Indoor Practices at Avon HS Gym – Starting late February, contingent on Gym availability
Outdoor Practices – Starting in April at Lake Road Practice Fields
Games – Starting late April
Tournaments – Typically late May and early June (at no additional cost to families)
Season is finished by middle of June
We accept players from all surrounding communities!

ALL PLAYERS MUST PROVIDE THEIR OWN STICK AND MOUTH GUARD

Questions: Please contact avonyouthlacrosse@yahoo.com
Avon Youth Lacrosse would like to the our 2019 Sponsors we couldn't do it with out your support!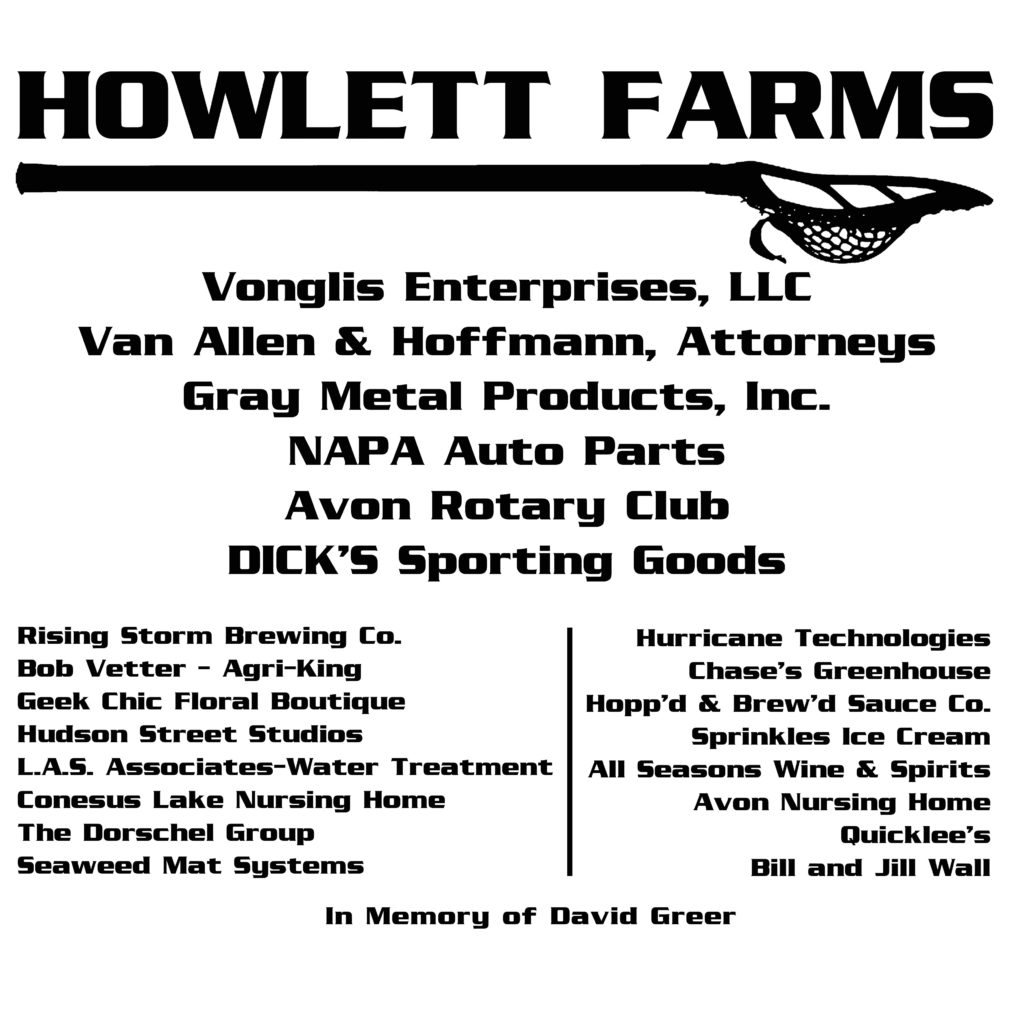 https://www.howlettfarms.com/
https://www.cannonandvanallen.com/
https://www.graymetal.com/
https://www.napaonline.com/
https://avonrotary.org/
https://m.dickssportinggoods.com/
https://www.risingstormbrewing.com/
https://www.agriking.com/
https://www.geekchicfloralboutique.com/
https://www.hudsonstreetstudios.com/
http://www.faimreps.com/
https://www.nursinghomesite.com/CONESUS_LAKE_NURSING_HOME_LIVONIA_NY
https://www.dorschel.com/
http://seaweedmatsystems.com/
https://hurritech.com/
https://www.chasesgreenhouseandflorist.com/
https://www.hoppdandbrewd.com/
https://m.facebook.com/sprinklesavon/
https://m.facebook.com/pages/category/Wine–Beer—Spirits-Store/All-Seasons-Wine-and-Spirits-117557761682466/
http://www.hurlbutcare.com/our-communities/avon-nursing-rehabilitation
https://www.quicklees.com/